Bought the Nike+ Sportband (available in Pink & Yellow) from Nike Wheellock Place in Singapore and the SwitchEasy RunAway Adapter from Epicentre which is just opposite the same Nike store.
Test setup:
iMac 24″ (Snow Leopard)
Asics Gel-Kayano 14
Nike+ Sportband
Nike+ iPod Sensor
SwitchEasy RunAway Adapter
After installing the Nike+ Utility. Connect the Nike+ SportBand Link to the USB Port on the iMac to customize settings as well as charging the battery.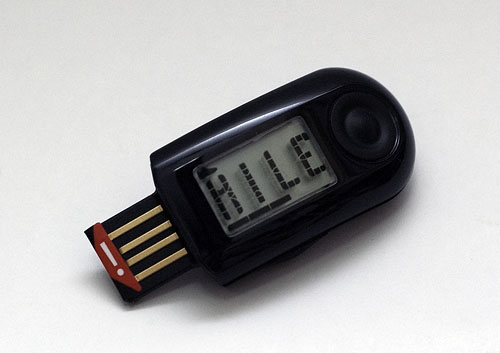 After charging and customization of your user settings on the Nike+ SportBand Link, connect the SportBand Link back into the band.
Using the SwitchEasy RunAway Adapter with non Nike+ shoes
Conclusion – Pros

The Nike+ SportBand material is very comfortable to the wrist
Nike+ iPod Sensor works well with the SwitchEasy RunAway Adapter. Out of box calibration is very accurate with the Nike+ SportBand over a 600 meters test run
SwitchEasy RunAway Adapter is firmly secure and does not move around if correctly installed amongst the shoelaces
Toggle button (on the side) of the SportBand Link allows easy cycling through your distance, pace, time and calories burned
Be part of the biggest online running community, the Nike+ website allows you to upload your runs, share and communicate with your friends who are also on the Nike+ community and lots more.
SwitchEasy RunAway Adapter is cheap to replace
Conclusion – Cons
Out of box calibration is slightly off for walks. Accuracy for a 600 meters walk incurs additional 5 to 10 meters. If you want spot-on accuracy, perform the calibration in a stadium (walk and run of the same distance) and adjust it against the Nike+ utility.
Plastic locking pin of the SwitchEasy RunAway Adapter looks fragile, might break when you are running amongst packed runners
Due to curve design of the Nike+ SportBand Link, upon inserting into the USB slots at the back of the iMac, it's physical build took up 2 x USB slots
Nike+ SportBand Link do not have backlight feature. Not suitable for running in limited light conditions.
Overall combined usage rating: 8.5/10