Testing out the 151 CNY (SGD 37.82 = SGD 32.72 + SGD 5.10 4PX forwarding fee) Yongnuo RF-603N1 which I purchased from Taobao via sea.taobao.com and freight forwarding using 4PX.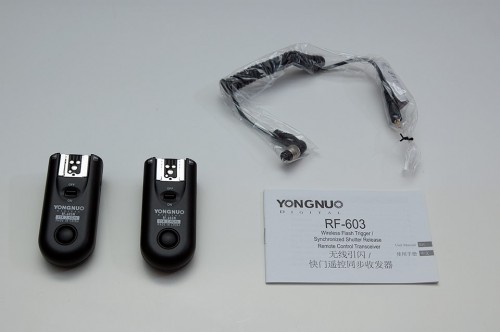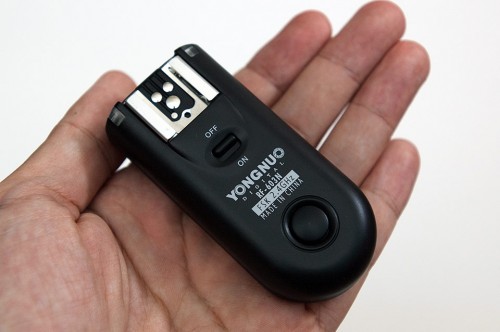 The blue light of the Yongnuo YN560-III  manual speedlite will light up indicating the radio channel being active. Here I am testing the RF-603N mounted onto the hot shoe of the Nikon D70 triggering the Yongnuo YN560-III with built-in radio trigger receiver.

One of the RF-603N transceiver is mounted on the hot shoe of the Nikon D70. It is used to trigger the RF-603N transceiver connected to the hot shoe of Nikon SB-800 and another Yongnuo YN560-III manual flash .
Wireless triggering the shutter release of the Nikon D2H using the N1 shutter release cable connected to the RF-603N mounted on the hot-shoe of the Nikon D2H.
You can even half-press to focus before triggering the shutter release.

Conclusion
The Yongnuo RF-603N (operated using 2 x AAA batteries) is an easy and affordable radio transceiver that allows you to wirelessly trigger your external flashes and shutter release of your Nikon DSLR. Each RF-603N can operate either as a receiver or as a transmitter.Build quality of the transceivers are quite solid and doesn't feel like some cheap plastic.
During the short test with my old Nikon D70, a SB-800 speedlite and a Yongnuo YN560-III, there are no miss-fires of the wireless triggers. If you don't mind the hassle of manually changing your external flashes settings due to the lack of TTL support with the RF-603N, it is definitely worth paying the SGD37.82. If i-TTL is a requirement in your shooting, then you have to consider the Yongnuo YN-622N instead.