China is one of the up and coming of good quality but affordable high fidelity equipment. Case in point is the Xiang Sheng USB DAC-01A. Before we continue, for those who don't know what is a DAC, its an acronym for Digital-Analog Converter. In this case, it converts the digital signal from the USB port to analog signal and passes to an amplifier. The Xiang Sheng USB DAC-01A is an affordable box, but packs a punch in features. I won't attempt to go into every feature, but just the cool ones that made me throw down the cash to buy one.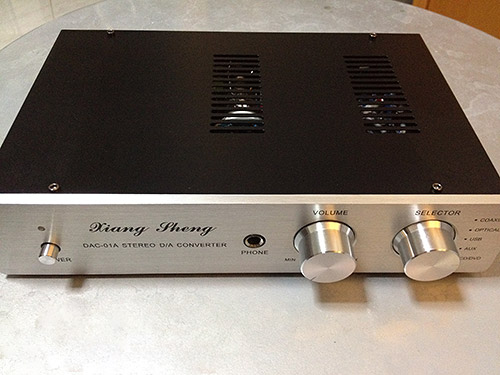 Tube Output
If you are looking for a tube output at an inexpensive price, stop reading this article and just go out and buy it. I have not seen one at this low price before. The tube itself is not high-end (you cannot seriously expect high-end for this price), and uses a China made 6N3 tube. From what I've read in the online forums, you can tube roll this bugger.
Solid State Output
Ok, since you are still reading, it means you are not sold yet. To sweeten the features, it comes with a solid state output as well. Yes, dual output. The Opamps are OPA2604 x 1 and LF353N x 2. The OPA2604 is socketed, so it's designed for Opamp rolling as well. At the same time, the headphone output passes through the Opamps as well.
Inputs
It was several inputs – on the digital side, you get Co-axial, USB and Optical. On the analog side, you get two additional RCA ports for Aux and CD/DVD.
Volume Control
It has a volume control knob, which is useful because the OS volume control in my Hackintosh doesn't work. Most USB DAC I've tested doesn't support software volume control. However, the Xiang Sheng USB DAC-01A only allows you to control the volume for the headphone output only. The headphone output does not go through the tube stage, and is purely solid state.
Pretty annoying, no way to control the volume on the tube side. Good thing we have Google. It was discussed in a forum that it is possible to modify it, and allow the volume knob to control the tube (and solid state) output volume. To make the story short, I wrote an email to the manufacturer, and they replied the very next morning. So easy, just change two jumpers and its done. Take note you have to break the warranty stickers to open the box though.
One beef I have is the volume knob itself, in particular, the way it turns.  The volume knob has detents and "clicks" as you turn it. Total opposite of the smooth turning volume knob I was expecting.
Sound
Every time I play something off it, I kept asking how is it possible to get this quality for such a price? Sound separation is very good, and I could hear individual instruments and sound distinctly. It has a wide sound stage, and nice warmth from the tube. Once it warms up, the dynamic range soars and the crescendos really punches. A really good hoot.
Reviewed by: Cosmo Kramer